This thing here is a webcomic (or online graphic novel, if one prefers the fancier term) called "a Redtails' Dream". It plopped up on the web in September 2011, and I started drawing it almost half a year earlier to be able to start it off with a whole bunch of pages at once, and to build up a decent page buffer. It is updated six times a week: every day except on Sundays!
This whole thing is intended to be a practice comic for me, which means that not a single page will ever be redrawn, no matter how much I want to both rewrite and redraw chapter one. And two. Aaand probably the rest of the chapters too once the've been lying untouched for a while. Oh, well.
So why am I practicing drawing comics through this seemingly unnecessarily massive project of mine? Ah, that is quite simple; I have a far larger comic project roaming around the inspiration chambers of my brain that desperately wants to get out. But before I set that one free, I really want to have the proper skills necessary in the art of comicking to make a top-notch job right from the beginning. And to build up a decent work ethic and some self discipline. Hence: practice comic!
Main characters of the comic are 24 year old Hannu Viitanen and his five year old dog Ville and they have wacky adventures together because I made it so. Most of the story has sprung from complete randomness that my brain has pushed out, which I've then seasoned with some elements from Finnish mythology and more random brain-goo.
If all goes according to my master plan, I'll have all the pages for aRTD drawn some time mid-2013 and after that I'll immidiately start working on my next, non-practice comic titled "Stand Still. Stay Silent". I'm on schedule so far, let's hope I'll be able to keep the pace up past the finish line. (I will, I promise.)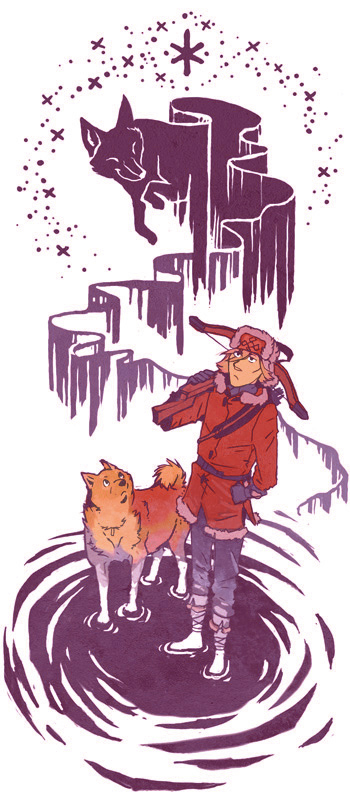 Frequently Asked Questions
Q: I need your email! Help meee, what is it?
A: It is: minna (at) minnasundberg.fi, no spaces of course. I try to check it every day, and if you haven't received any kind of reply within a few days feel free to send me a little reminder mail.
~
Q: How long will "a Redtail's Dream" be?
A: Right now I'm estimating it to be about 600 pages, consisting of 8 chapter plus the prologue and a short epilogue. My initial estimate a year ago when I started this thing was merely 150 pages, so...well see if this estimate holds true.
~
Q: How much time do you spend on one page?
A: About 8 hours, give or take an hour. Five of those usually sink into the sketching + inking part, colors and speech bubbles don't take as long to throw in.
~
Q: Are you going to publish aRDT in printed form some day?
A: Uhhh... maaaybe. I didn't really plan on doing anything of the kind when I started this practice project, and I was vehemently against the idea for a long time, but I've warmed up to the idea a bit lately. It would be a pretty laboring task to prep all the pages for print, especially the first four chapters since they barely contain any margins at all, so it's not a flippant decision to make. We'll just have to wait and see what my feelings about the comic is once I'm finished, I might very well become filled with sudden excitement about the book idea and not mind the hazzle, but it's also possible that I just go "finally done! Next comic!" and don't even look back. And of course there's a pure economical demand-based aspect too: not enough readers and therefore not enough of a demand for such a huge book would make financing a print run impossible, so...we'll see what happens in a year.
~
Q: Is your next comic going to be a webcomic too?
A: Definitely! And it's going to be way longer, neater and better than aRTD. If it isn't I will have failed at everything I set out to do and my brain will implode.
~
Q: Do you take commission or do illustration/comic stuff for hire?
A: Nope, sorry, not anymore. I'm focusing 100% on finishing my studies while also working on the comic, so I have zero time left over for...well, anything really. Not even for things that would result in me having money. I really do like money, though...*sighs*
~
Q: Who were you again?
A: Ah, yes, hello there! My name is Minna Sundberg, a Finnish/Swedish lady-person born in 1990, currently studying graphic design at the University of Art and Design in Helsinki. I'm aiming to get my bachelors degree this year, and hoping to then move on to making comics for the rest of my life. On that note I also want a pet unicorn and to live on the moon, but let's just hope that everything is possible and that working really hard will pay off in the end.